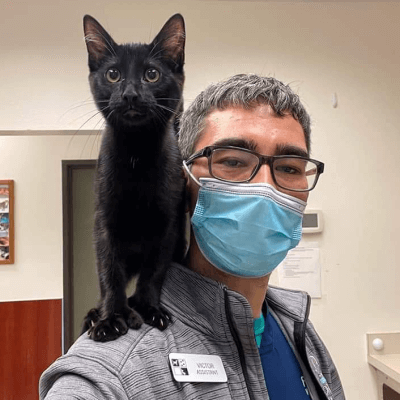 Our onsite pharmacy carries a wide array of preventative medicines that will protect your pet from fleas, ticks, and heartworm, as well as intestinal parasites. And, unlike large online retailers, we can guarantee that all the products we sell are safe and effective.
In addition to flea, tick, and heartworm preventatives, our pharmacy offers:
---
Dental products
Food
Hip & joint medications
Allergy remedies
Supplements for healthy skin & coat
Training & behavior aids
We know that you only want the best medical care for your pet. We also recognize that obtaining this care can feel expensive. Many of you have gone shopping for your pets' chronic medications through large human pharmacies and online retailers. We always recommend that you obtain your prescriptions through a properly licensed and accredited veterinary pharmacy however; we wholeheartedly support your right to choose where you get your pets' medications. We will willingly write you a prescription for your pets' meds to be filled at the retailer of choice. When you request this service, here are a few things to know:
We will only provide hard copy written prescriptions for your pets' medication. This ensures that proper written documentation of the prescription is entered in our medical files and it matches what is communicated to the outside pharmacy. This hard copy prescription is on security paper and will need to be picked up from the hospital and mailed or hand-delivered to the pharmacy of your choice.
Communication with outside pharmacies is both frustrating and time-consuming which takes us away from our in-clinic duties. We believe our focus should be centered on the care of your pet. Therefore, we won't spend time communicating with outside pharmacies in any form other than the original written prescription.
We know that cost is a big part of your decision on where to purchase your medication. We are a small local business and like other small local businesses, we struggle to stay cost-competitive with large corporate and online retailers. We want you to know that we do our best to keep our prescription costs as low as possible. If you value personalized service from a local business, consider purchasing your prescriptions directly from our clinic or from our online store. This supports the local economy and helps our business stay strong and available for you and your pet.
Our online pharmacy integrates with our practice management software. This allows you to skip the steps of calling the clinic, picking up a written prescription, mailing a prescription to a retailer then waiting for it to arrive. You can order your pet's medication or food directly through our website and receive it in a few days.
We love serving you and your pets. We always want to do the best thing for them. We hope you understand our desire to support your family. Please reach out to us if you have any questions regarding obtaining prescriptions for your pets. Thank you for trusting us with your pets' medical care.