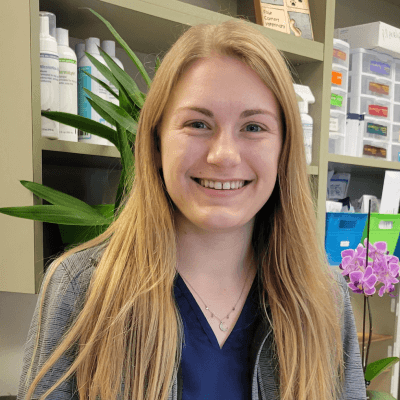 Cameron joined Four Corners as part of the Client Services team in January 2022. Raised in the desert of Arizona she moved to Eugene in the fall of 2021 where her love of the great outdoors can be fully enjoyed!
Cameron chose to work with Four Corners Veterinary clinic "because I saw a potential future work family", enjoying everything about the interview process and the way the team worked together, had fun together, and loved and cared for the animals they treated.
Cameron chose the veterinary field because of the joy she receives in helping others and being able to help animals. Growing up with her beloved golden retriever she realized the importance of great veterinary care and wants to help other pets live longer, happier lives with a special interest in dog behaviors.
When not at the clinic you will find Cameron enjoying the outdoors; probably on top of the mountain somewhere skiing, hiking, backpacking, fishing, and much more. She also enjoys drawing pets and taking care of her abundant plant collection.